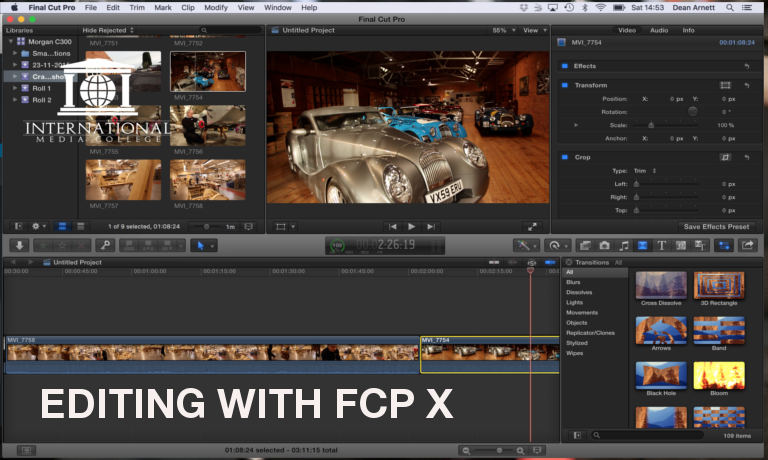 Instructors
Editing - Final Cut Pro X
Editing – Final Cut Pro X
The definitive, professional, online FCP X masterclass.
Despite a little controversial in layout and operation, FCP X is never the less a high-end, professional, broadcast quality, Mac based edit system. This online masterclass will guide you through from basic layout and operation through more advanced tips, tricks and techniques, including the very important grammar of editing. It will make sense of the magnetic timeline and show you how to adapt easily for those coming from a more conventional FCP 7 or Adobe Premier background.
What's in the course
You'll learn how to…
Navigate your way around the interface and find the right tools, transitions and effects
Deal with the magnetic timeline and other unique FCP X operations
Import your media
Understand and organise your media in the rushes bins
Deal with different settings and codecs
Get up to speed quickly and start editing your film
Mix your audio tracks and add music
Add transitions to your video cuts
Add effects to your video and sound
Adjust the size and position of your pictures
Animate moves and effects
Take control of the unlimited video and audio tracks
Understand the basic grammar of editing
Do multi-camera editing
Auto sync sound
Learn the keyboard short cuts to speed up your editing
And much much more
Who's the course for
Anyone wanting to learn FCP X to a broadcast standard professional level. This course will be useful to both beginners and more experinced users wanting to imporve their speed and skills or improve the sophistication of their editing.
Anyone wanting to migrate painlessly from FCP 7 or Premier to FCP X.
Course outcomes
A comprehensive understanding of FCP X and of the grammar of editing to a level expected of a frontline production house or network broadcaster.
Course Reviews
No Reviews found for this course.